A good Friday
Looking through the haze at some positives.
Today, in early October, the air quality index (AQI) Boulder is 156, in the red zone, meaning that "Some members of the general public may experience health effects; members of sensitive groups may experience more serious health effects." Despite wildfires being a more recurrent theme this summer than usual, I'm still usually prone to misidentifying the stink coming in the window first thing in the morning as something more proximate, like the results of something I'd dumped into a hot skillet during a drunken 3 a.m. rally and quickly forgotten about — a supposition which, while lacking in recent support, would be entirely conceivable from a historical point of view.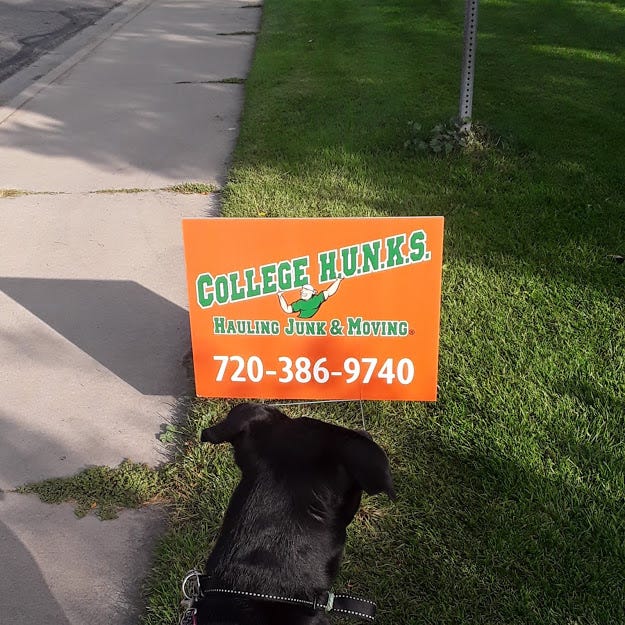 Local college hunks advertising their junk on the Bear Creek Path
Also, you may have noticed that an already fraying U.S. government is now in outright turmoil. Lost in the clamor of Trump's perpetual drumbeat of degeneracy and mask-flouting — at least as far as I can tell while avoiding deep news-site dives — is the fact that the U.S. Commander-in-Chief is, by his own word, suffering from what has to be considered a grave illness. That wouldn't be great news even if the most contentious national election anyone can remember were not getting underway.
So, contra most of what I tend to write about here, especially lately, I decided to mention a few people who, rather than simply throwing word-darts at perceived villains, are addressing some of the problems that have been laid bare in running (and women's athletics as a whole) in recent years, or at least focusing on running as a sport.
Not only is New Hampshire managing to have a meaningful high-school cross-country season, New Hampshire Cross-Country, one of two sites an enclave of coaches, students and volunteers maintains for the state's high-school runners, is still producing and releasing videos and daily meet results. If you scan the site, you should be able to see why I felt the folks behind this deserve recognition on greater scale despite the preponderance of white maleness besmirching their ranks.

More at the heart of the XC game, my alma mater, Concord, has had two meets at Derryfield Park now, both against dismal teams. The defending D-1 champs averaged 17:19 on the state-meet course in Manchester on Sept. 18, then followed that up on Wednesday with a collective average of 16:49, with their number-one holding back early in an effort to drag some teammates to faster times.

Last fall, Concord averaged 16:35 in winning the D-1 title. A top-five median is only part of the story, since a vastly superior number one (which Concord has) doesn't help you any more than someone who squeaks out an individual win despite beautifying the team average. Regardless, looking at the graduation and other losses of Concord's top divisional rivals, I doubt they will have to run as fast as they did in 2019 to win, and I'm guessing that their fifth runner will come home in 16:50 or faster on Halloween night of 2020.

Whether Concord will get to face New Hampshire's top team, D-2 Coe-Brown, in a Meet of Champions on Nov. 7 is still to be determined, maybe in no small part because there's a significant election between the State Meets and any prospective MoC.

I had never heard of Cindy Kuzma until recently, but she has turned out a pile of great pieces for Women's Running. (One of the nice things about returning to the world of writing about running myself is discovering people who have found a solid message and are spreading it in a useful way.) She recently started a series about women coaches, a timely idea given that former Nike Oregon Project coach Alberto Salazar completed his slide from controversial to suspended to accused of various outright abuses not long ago, provoking additional disheartening stories about shitbird male mentors.

What I actually hope to see eventually emerge from the media mortification of the coaching profession — contrary to the New York Times-promoted idea that young women require a brand-new, women-only sports system in order to thrive — is the understanding that not only are there lots of decent make coaches of both sexes out there, but also that women can very capably coach men, too. It doesn't have to be like a Jim Crow system. I have long believed that every college women's program should have at least one woman on staff (preferably not "just" a grad assistant) to deal with serious issues that affect male runners less often or, by definition, not at all; maybe requiring this would be a good start, but it's unfortunate more teams haven't taken the initiative.

My own most recent piece for Podium Runner draws on the wisdom of Amy Yoder-Begley, the 2008 U.S. 10,000-meter Olympian (and former NOP member) who with her husband Andrew is coaching the Atlanta Track Club. She is the only recently retired elite American female distance runner I could think of who is now in charge, or at least co-charge, of such a large competitive running enterprise.

In this medium, I probably sound like an asshole much of the time, or at least like someone whose bearing doesn't mix well with interacting with others. Perhaps knowing this has upped my resolve to have a positive impact on random people while I'm outside hauling my carcass through the filthy air and hoping Rosie's feeling okay between jumps into Boulder Creek, no matter what kind of shitty mental day I'm having. A lot of people out there, and I can be one of them, are pleasantly surprised when you stop to talk to them about whatever might be in the immediate air for a few seconds, especially older people walking by themselves. I probably figure I'll be one of those someday. Either way, one silver lining about society as a whole being on edge is that it doesn't take a lot of effort under such conditions to brighten someone's day. I mean, even if it feels like an act at first, afterward you'll have conned yourself into thinking you're a decent person. Try it! If it worked for me for long enough to hawk this rose-scented loogie onto the Web, it can drag your sorry ass out of the misanthropic muck for a bit, too.